SmartGo Kifu for iPad
by Anders Kierulf
2010-03-31
The iPad version of SmartGo has been approved! It will be an iPad-only app called SmartGo Kifu, priced at $19.99.
View games as kifu
Kifu is the Japanese term for game records as shown in books. Viewing and replaying a game as kifu is the first new feature in this iPad version of SmartGo. You can still replay games move by move. But you can also look at a game as a series of figures and diagrams, much like a Go book. SmartGo Kifu automatically splits the game into diagrams at comments and variations. In a diagram, you can see a sequence of moves at a glance.
SmartGo Kifu comes with 20 professional games annotated by Alexandre Dinerchtein to showcase this feature. You can import any additional commented games and view them the same way.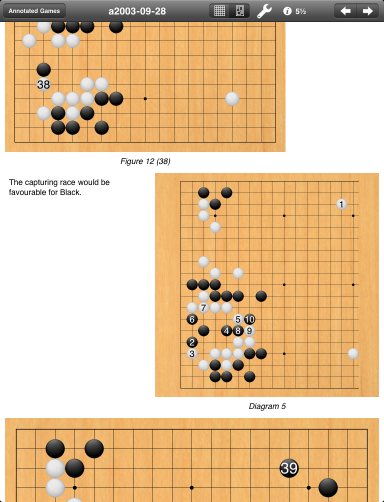 In this first release, the diagrams are static images. Future versions will let you replay moves directly in the diagrams, but that feature needs some hands-on testing with a real iPad, not just a simulator.
Why not universal?
SmartGo Kifu builds on SmartGo Pro for the iPhone. At this point, the two apps are still pretty close, but over time I expect them to diverge:
The screen size of the iPad allows whole new features that will either be missing or limited on the iPhone.
The extra power will allow more game records. Initially, SmartGo Kifu includes 20,000 pro games, but I hope to increase that significantly as soon as I know how the iPad performs.
Even for shared functions, the UI will over time change away from the iPhone version and become optimized for the iPad.
Unfortunately, this means people who already own SmartGo Pro will have to pay again for SmartGo Kifu. I'd love to provide upgrade pricing, but that's not yet possible on the App Store. SmartGo Pro users have gotten numerous new features and refinements over the last 18 months, and you can expect many more free updates for both SmartGo Pro and SmartGo Kifu.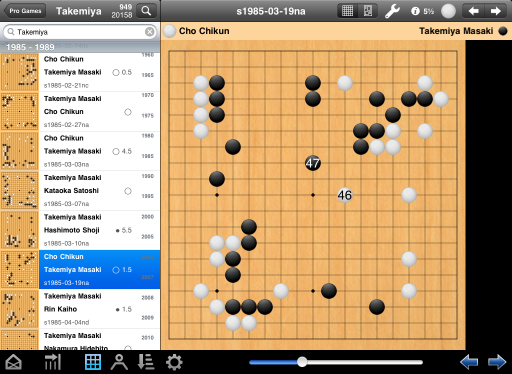 SmartGo: Universal, stronger play
The simpler SmartGo application will be universal, as it's mainly designed for playing against the computer, and I don't expect big differences in functionality between iPhone and iPad versions. Playing strength automatically improves as you add more processing power, so just as it already plays better on a 3GS than on a 3G, it will play better yet on the iPad. Expect the universal version of SmartGo within a few weeks.
SmartGo on iPad
SmartGo Pro on the iPhone has been a great success. Given the restrictions on screen size and computing power, it works a lot better than I at first thought would be possible. But the iPad seems custom made for Go, and I hope to make this the killer app for Go players. Please let me know about any rough edges you find in this first release, and what you'd like to see in future versions.
Update (2012-08-19): The decision to create a separate version for the iPad was clearly wrong; SmartGo Kifu is now universal. The simpler SmartGo has been renamed SmartGo Player and is now finally universal, two years late.