SmartGo offre une large gamme de fonctions pour les joueurs de Go entre les niveaux 20ème kyu et 6ème dan. Ses fonctions puissantes sont facilement accessibles dans une interface utilisateur bien conçue. Les principales fonctions de SmartGo sont rassemblées en onglets qui organisent vos activités de Go ainsi que vos parties.
VEUILLEZ NOTER: SmartGo pour Windows n'a pas reçu de mises à jour fréquentes ces dernières années, car je me concentre sur les versions iOS et Mac. Compte tenu de cette réalité, j'ai réduit le prix de 39 $ à 19 $. SmartGo pour Windows peut encore recevoir des mises à jour, mais aucune promesse; Veuillez l'évaluer et l'acheter pour ce qu'il est et peut faire aujourd'hui. Plus de détails dans ce billet de blog. - Anders Kierulf, 3 décembre 2020
Parties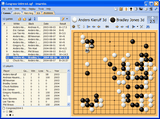 Play against SmartGo or other programs and keep track of all your games. Create separate tabs for your own game collections, such as your tournament games, for example.
Bibliothèque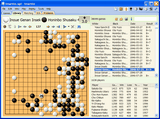 SmartGo comes with more than 108,000 professional games (the complete GoGoD collection). You can sort, search, and filter to find specific games, then replay and study master games to become stronger. SmartGo can search through all games to find specific positions and show statistics for the moves chosen by professionals.
Rechercher des correspondances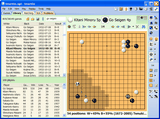 Find matching positions in the library of professional games. Study joseki in the context of your own game, and compare with professional play. See how professionals continue after your favorite fuseki.
IGS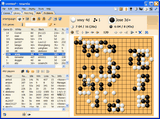 Play against other players around the world on the Internet Go Server (IGS). Observe exciting games or even title matches live.
Problèmes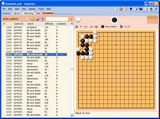 SmartGo comes with over 2000 problems, at all degrees of difficulty. Study life & death and tesuji problems to become stronger.
Et plus encore...
Téléchargez le programme complet gratuitement et jouez avec pendant 15 jours. Nous sommes convaincus que vous serez impressionnés par l'étendue des fonctions de SmartGo, par la qualité de sa mise en œuvre, et par le design de son interface utilisateur. Aucun autre logiciel de go ne lui arrive à la cheville.
Aide en ligne: Vérifier la documentation de SmartGo pour des questions concernant des fonctions spécifiques.